Findings about tirzepatide, a dual glucose-dependent insulinotropic polypeptide (GIP) and glucagon-like peptide-1 (GLP-1) agonist for the treatment of obesity, were presented at ObesityWeek. The study found consistent weight loss regardless of individual factors such as BMI, age, and various comorbidities. This is exciting news for those searching for medical weight loss options, as tirzepatide has shown promise as a useful treatment.
About Tirzepatide
In May of 2022, tirzepatide (brand name is Mounjaro), a once-weekly subcutaneous injection, was approved by the FDA for blood sugar control in patients with type 2 diabetes. Then in June, at the American Diabetes Association annual meeting, researchers reported "unprecedented" weight loss with tirzepatide in patients without type 2 diabetes, in the phase 3 SURMOUNT-1 clinical trial.
Just last month, on October 6, the FDA granted fast track status to tirzepatide to be used as a weight loss drug. Session Chair Patrick M. O'Neil, PhD commented that the results from the Surmount trial show that "regardless of BMI, regardless of age, regardless of number of obesity-related health complications, there was a clear dose-related weight loss that was pretty consistent across groups." He also added that "the absolute levels of weight loss are higher than we've seen thus far with [anti-obesity] medications and that tirzepatide is a notch up from Semaglutide."
The SURMOUNT-1 trial compared the efficacy and safety of tirzepatide 5, 10, and 15 mg subcutaneous once-weekly to placebo, as an adjunct to a reduced-calorie diet and increased physical activity. The study included 2539 adults without type 2 diabetes who had obesity (BMI ≥ 30 kg/m2) or were overweight (BMI ≥ 27 kg/m2) with at least one obesity-related complication (hypertension, dyslipidemia, obstructive sleep apnea, or cardiovascular disease).
At 72 weeks, patients taking 5, 10, and 15 mg/week tirzepatide lost 21.5%, 20.8%, and 22% of their initial body weight, respectively. Tirzepatide significantly lowered total body mass versus placebo regardless of age and it consistently lowered fat mass, lean mass, fat-mass-to-lean-mass ratio, and visceral fat mass.
90% of patients lost more than 5% body fat. Overall, 73% to 90% of patients receiving the 5 to 15 mg doses of tirzepatide had a 10% body weight reduction. Something that researchers didn't expect to see was that 50% to 78% of the patients receiving the drug lost 15% or more of their body weight.
Regardless of the number of comorbidities (including hypertension, dyslipidemia, obstructive sleep apnea, atherosclerotic cardiovascular disease, osteoarthritis, anxiety/depression, polycystic ovary syndrome, non-alcoholic fatty liver disease, and asthma/chronic obstructive pulmonary disease.), all doses of tirzepatide resulted in a greater reduction in body weight compared with placebo. Tirzepatide at all doses resulted in significantly greater improvements in patient-reported outcomes compared with placebo.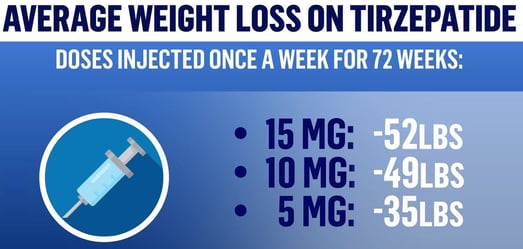 Benefits of Tirzepatide for Weight Loss
Based on clinical trials, patients using Tirzepatide may experience:
Substantial A1C reductions
Increased weight loss
Improvements in cardiometabolic measures
Improved triglycerides levels
Reduced appetite
Decreased blood pressure
Improved insulin sensitivity
Conclusion
Tirzepatide had an overall safety and tolerability profile, similar to other therapies approved for the treatment of obesity. Activating the GIP (glucose-dependent insulinotropic polypeptide) receptors has a huge impact on decreasing food intake and increasing energy expenditure. This in combination with a GLP-1 receptor activator has even more significant effect on glucose optimization and body weight reduction.
Obesity should be treated like any other chronic disease—with effective and safe approaches that target underlying disease mechanisms. The various studies show that tirzepatide is accomplishing this. These results are an important step forward in expanding effective therapeutic options for people with obesity. On average 9 out of 10 individuals with obesity lost weight while taking Tirzepatide.
HOW TRANSFORMYOU CAN HELP
Transformyou offers consultations for anyone looking into their medical weight loss options. In these consultations, we work together to develop a comprehensive medical weight loss plan that is safe and effectively tailored just for you. All patients receive direct support under the care of one of our dedicated physicians to ensure patient safety and confidentiality.