Obesity is a condition that affects over 40% of adults in the United States. Unfortunately, there is no magic pill that will cure it. There is, however, a new type of medicine that might be considered a game-changer. It's an anti-obesity medication, and what makes it unique is how it's prescribed: It is used to treat obesity as a chronic metabolic disease rather than assuming the misconception that obesity is a problem that can be overcome by willpower. In this article, we'll take a look at what semaglutide is, how it works to support weight loss, other potential use cases, and the most common side effects to be aware of.
How Semaglutide Works
Semaglutide is an FDA-approved medication that also goes by the brand name Wegovy. Semaglutide is administered once per week by self-injection. If the thought of injecting yourself causes distress, rest assured that it's much simpler than you may think. The needle is extremely thin and most patients find that they barely notice it after a few doses. The medication is stored in a pre-filled, pre-metered dosage pen which you hold against your thigh or belly. With a quick press of a button, it's done!
Technically, semaglutide functions by mimicking glucagon-like peptide-1 (GLP-1), a hormone the body naturally produces. GLP-1 is normally secreted in the gut when we eat fats and carbohydrates. When this hormone is released, it targets various receptors in the body to help stimulate insulin release, while also suppressing glucagon, slowing gastric emptying, and increasing feelings of fullness. GLP-1 receptor agonists were initially developed to help patients with type 2 diabetes, but it was later proven that the hormone mimicker also helps obese patients.
In basic terms, the actions this hormone takes when released, as described above, all add up to signal to the brain that we feel full and content after eating. With the steady supply of this hormone that semaglutide provides, obese patients are finally able to receive the bodily signals telling them they are full after eating much smaller portions.
Benefits of Semaglutide
While weight loss medications have been around for decades, many are modestly effective at best— some are even deadly due to amphetamines and other potentially harmful substances. Semaglutide is the first of its kind, heading up a new generation of safe and highly effective hormone-based weight loss medications.
The health benefits semaglutide provides to overweight and obese patients are:
Blood sugar-lowering effects without any increase in hypoglycemia
Reduced body weight, lipids, blood pressure, inflammatory markers, oxidative stress, endothelial dysfunction, and subclinical atherosclerosis
Suppressed appetite
Enhanced β-cell proliferation with anti-apoptotic effects on these cells, which induces insulin synthesis
Enhanced glucose-dependent insulin secretion
Deescalates out-of-control glucagon levels, both in fasting and after eating
Promotes insulin secretion from b cells, while decreasing glucagon secretion in the pancreas
Promotes a sensation of fullness in the brain
Slows gastric emptying in the intestines to help feel fuller, longer
Reduces HbA1c
Weight loss
In a clinical trial, Semaglutide helped most people with obesity lose at least 10 percent of their body weight, and more than half of them reduced their weight by at least 15 percent, according to results published in February 2021 in the New England Journal of Medicine. Losing 15% of your body weight is an amount that most healthcare professionals say can help reduce the risk for future chronic illnesses.
People taking semaglutide have also experienced greater improvements in cardiovascular risk factors like BMI, waist circumference, blood pressure, and blood sugar levels than participants given a placebo.
Other potential uses of Semaglutide
Semaglutide has been approved for treating type 2 diabetes for quite some time. In this use case, it is available under the brand names Ozempic and Rybelsus. There are, however, additional potential use cases that are being researched in order to prove their benefits, including:
As a treatment for Non-Alcoholic Liver Disease (Phase 3 trials currently underway)
Potential neuroprotective and neurotrophic actions
Demonstrated therapeutic efficacy in the treatment of Parkinson's disease
Improved cognition has also been demonstrated in clinical studies for the treatment of Alzheimer's disease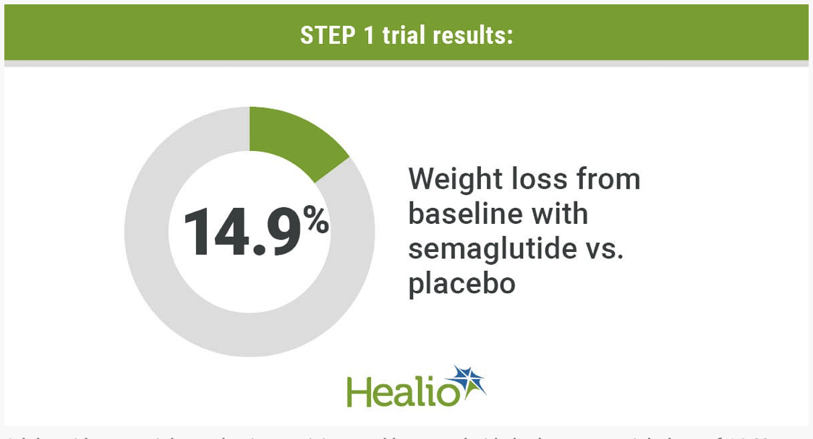 Common side effects of Semaglutide
The simple takeaway is that semaglutide helps optimize insulin and glucagon levels. Treating both insulin and glucagon can lead to normal glucose levels and weight loss while also naturally improving your metabolism over time. Combined with other lifestyle modifications, including exercise and a nutritious diet, this could be the answer many have been waiting for. Still, as with all medications, there is the potential for side effects.
The most common side effects of semaglutide are:
nausea
diarrhea
vomiting
constipation
abdominal pain
headache
fatigue
dyspepsia
dizziness
abdominal distension
flatulence
gastroenteritis
hypoglycemia in people with type 2 diabetes
There are no known adverse cardiovascular events associated with this class of hormone-based weight loss drug. This drug class has been linked to rare thyroid cancers in rats, but not humans. As a precaution, semaglutide is not prescribed to patients with any history of thyroid cancers.
How Transformyou can help You
Transformyou offers consultations for anyone looking into their medical weight loss options. In these consultations, we work together to develop a comprehensive medical weight loss plan that is safe and effectively tailored just for you. All patients receive direct support under the care of one of our dedicated physicians to ensure patient safety and confidentiality.
Schedule your consultation today!
Research
Manfredi Rizzo, Dragana Nikolic, Angelo Maria Patti, Carlo Mannina, Giuseppe Montalto, Brooke S. McAdams, Ali A. Rizvi, Francesco Cosentino , GLP-1 receptor agonists and reduction of cardiometabolic risk: Potential underlying mechanisms. 2018 Accepted
Pharmacokinetics and Clinical Implications of Semaglutide: A New Glucagon-Like Peptide (GLP)-1 Receptor Agonist.,Clin Pharmacokinet. 2018 Jun 19. doi: 10.1007/s40262-018-0668-z.
Drucker,David, Mechanisms of Action and Therapeutic Application of Glucagon like Peptide-1. Cell Metabolism 27, April 3, 2018 a 2018 Elsevier Inc. Metabolism 27, April 3, 2018 a 2018 Elsevier Inc.
Rubino D, et al "Effect of continued weekly subcutaneous semaglutide vs placebo on weight loss maintenance in adults with overweight or obesity" JAMA 2021; DOI: 10.1001/jama.2021.3224.
Once-Weekly Semaglutide in Adults with Overweight or Obesity https://www.nejm.org/doi/full/10.1056/NEJMoa2032183
Rubino DM, Greenway FL, Khalid U, O'Neil PM, Rosenstock J, Sørrig R, Wadden TA, Wizert A, Garvey WT; STEP 8 Investigators. Effect of Weekly Subcutaneous Semaglutide vs Daily Liraglutide on Body Weight in Adults With Overweight or Obesity Without Diabetes: The STEP 8 Randomized Clinical Trial. JAMA. 2022 Jan 11;327(2):138-150. doi: 10.1001/jama.2021.23619. PMID: 35015037; PMCID: PMC8753508.
Wilding JPH, Batterham RL, Calanna S, Davies M, Van Gaal LF, Lingvay I, McGowan BM, Rosenstock J, Tran MTD, Wadden TA, Wharton S, Yokote K, Zeuthen N, Kushner RF; STEP 1 Study Group. Once-Weekly Semaglutide in Adults with Overweight or Obesity. N Engl J Med. 2021 Mar 18;384(11):989. doi: 10.1056/NEJMoa2032183. Epub 2021 Feb 10. PMID: 33567185.